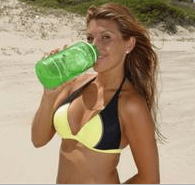 Our margarita cocktail shaker bottle has a wide mouth to make it easy to pour in our margarita mix, tequila, triple sec and water, which is all you need to make great tasting low calorie margaritas.
To make our award winning margaritas in our margarita cocktail shaker bottle simply do the following:
pour in 8 ounces of your favorite tequila
add 4 ounces of Triple Sec (Grand Mariner or Cointreau)
add 20 ounces oz of water to the pre-measured volume lines on the back of the margarita cocktail shaker bottle.
Then simply add and one package of our great tasting low calorie powdered margarita mix and shake, shake, shake.
Do the Hookie Pokey and turn yourself around, because that's what its all about…
I'm just sayin!