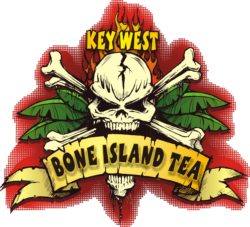 Bone Island Tea is the Margarita Shack's version of Long Island Tea and it tastes even better when mixed with the recommended ingredients. Many years ago Key West was known as Bone Island.
Our Bone Island Tea recipe has the following ingredients:
Tequila-2 0z
Vodka-2 oz
Gin-2 oz
Rum-2 oz
Triple Sec-4 oz
Coke-Splash

Add the recommended ingredients to one package of Bone Island Tea Mix and you'll soon be enjoying a great tasting Long Island tea from Key West.